10 Inches Fall in Central Park as Nor'easter Thrashes Tri-State; Damaging Winds Leave Thousands in Dark
source https://www.nbcnewyork.com/weather/weather-stories/tri-state-could-see-its-first-major-snow-storm-of-the-season-next-week/2774375/
What to Know
The tri-state is bracing for a powerful nor'easter to start Wednesday afternoon and last into Thursday, which could dump a foot of snow on NYC and up to two feet on areas northwest of the city
The exact track of the bigger storm remains uncertain at this point, but Storm Team 4 is confident most of NYC and NJ will get heavy snow; wind gusts topping 60 mph could cause power outages
The worst of the storm is expected to start around 8 p.m. and last into the overnight hours before the storm moves out Thursday a.m., but the coldest air of the season could last into the weekend
A major snowstorm is threatening New York City and the rest of the tri-state area, as Storm Team 4 says it could bring up to two feet of snow in some areas and knock out power — promising to be one of the largest snowstorms in years.
Winter storm warnings now cover all five boroughs of New York City and Long Island's Nassau County, from Wednesday afternoon through Thursday. Warnings and watches will be in effect for virtually the entire tri-state area at that time.
"Be ready for a disruptive storm and start to make adjustments right now for what you'll be doing on Wednesday and Thursday," Mayor Bill de Blasio said in an afternoon snow briefing. "This could be one of our biggest storms in years."
The nor'easter is expected to push northeast but small shifts in track or temperatures could dramatically alter potential snow amounts in either direction. At this point, the snow is expected to begin by 5 p.m. Wednesday for parts of the tri-state and intensify over the course of the evening.
The worst conditions are expected overnight Wednesday into Thursday — think 8 p.m. to 6 a.m. — when heavy snow and strong winds could make travel especially perilous. The snow is expected to move out by around noon Thursday.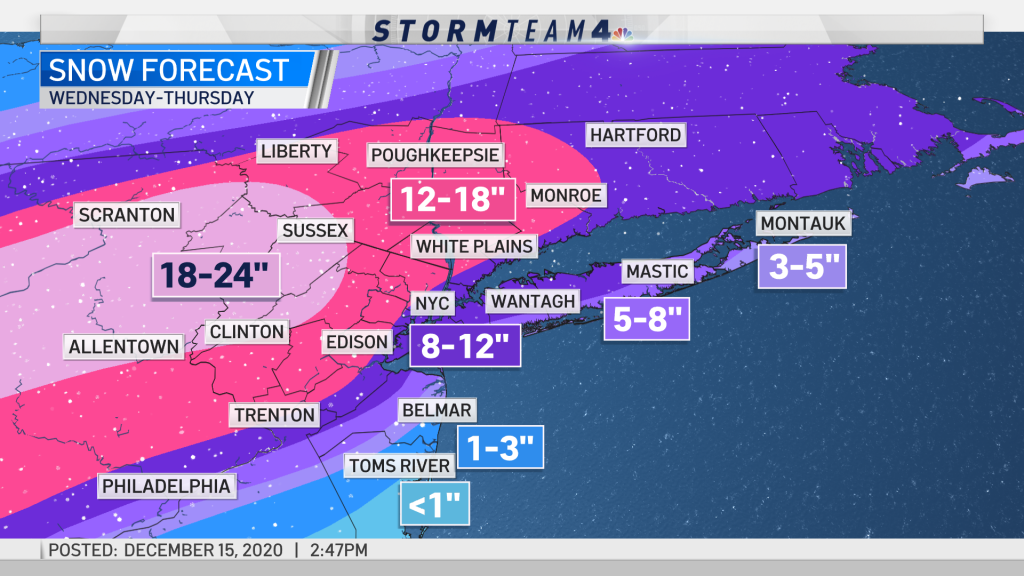 Right now, New York City is expected to get around a foot of the snow, the most it will have seen since January 2016, though coastal Brooklyn and Queens should see lesser amounts (5 to 8 inches). Expectations have increased for higher elevations across western New Jersey into Pennsylvania, with snow totals now projected to be anywhere from 18 inches to 2 feet.
Most areas north and west of the I-95 corridor are expected to see at least a foot to a foot and a half.
The biggest uncertainty around potential accumulations right now involves snow totals near and along the coast. There will be a sharp cutoff in snowfall totals depending on where the rain/snow line sets up, which depends on the storm path.
Photos: Nor'easter Latest: Snow Totals Could Hit 2 Feet in Parts of Tri-State, 8-12 Inches for NYC
The latest forecast shows the storm had shifted slightly farther north, which means greater potential for sleet mixing in at the Jersey Shore. Storm Team 4 lowered projected snow totals for Monmouth and Ocean counties. Coastal flooding is a concern especially Wednesday night during high tide, and high wind gusts topping 60 mph could worsen power outages.
Con Edison says it is prepared to respond to any weather-related service problems and warned anyone who comes upon downed wires to stay away since they could be live. Road salt mixing with melting snow can damage underground electrical wiring, potentially causing additional power outages.
---
LIVE RADAR: Track Latest Timing, Potential Impacts for Nor'easter Threat
---
Should conditions turn warmer than expected, the forecast for heavy snow could turn into one for blankets of sleet, which would make roads dangerous overnight Wednesday and through much of the day Thursday. Anyone traveling at that time should make other plans or allow additional time to deal with unsafe roads, and commuter rails like NJ Transit are already warning passengers to expect delays and cancellations. The MTA said public transportation will be running, getting chains ready for buses.
New Jersey Gov. Phil Murphy warned residents to brace for what appears to be the "first significant" winter storm of the season, saying "this system has the potential to provide snow to almost the entire state." He and emergency management officials are shoring up resources and making preparations in the Garden State. State and city officials are doing the same in New York.
In New York City, officials have said schools would move all-remote in the case of a significant snow event, meaning no snow days in the city amid the pandemic. Mayor de Blasio said schools will be open as usual Wednesday, with the storm not expected to deliver any impact until late afternoon. A decision on schools for Thursday is expected to be made around dinnertime on Wednesday, though the mayor warned parents they should be prepared with alternative options.
Other tri-state school districts, including Port Washington on Long Island, don't plan to remote teach on inclement weather days. Check the latest school closing alerts here. Alternate side parking is suspended Wednesday and Thursday to facilitate snow removal. Restaurants in New York City, which suspended indoor dining as of Monday by gubernatorial order, also are on alert.
The city's sanitation department issued a snow alert, which in addition to suspending alternate side and trash collection forces all outdoor dining setups built on city streets to close by 2 p.m. (when the alert goes into effect).
While this means that customers cannot sit in the existing structures, and any tables or chairs be removed by that time, the barriers or structures themselves do not have to be taken down. All electrical heaters must be removed as well. Sidewalk dining is allowed to continue, though may prove to be tough to pull off given the likely conditions.
The city estimates the snow alert will expire Thursday evening, but it could last until Friday morning depending on accumulations and road conditions.
Could it be a blizzard? To be an "official" blizzard by National Weather Service standards, a storm requires sustained wind or frequent gusts of at least 35 mph and considerable falling or blowing snow in an area for at least three straight hours. At this point, it's too early to tell if Wednesday's storm could qualify.
Once the storm pulls out Thursday, the coldest air of the season is expected to move in. Temperatures are expected to be around 31 degrees, which could cause freezing problems on top of the snow. They'll bump up to just above freezing on Friday but are expected to stay below 40 through the weekend.
Up to a foot of snow is expected in parts of the tri-state starting Wednesday. NBC New York's Checkey Beckford reports.
It hasn't snowed a foot in Central Park since January 2016, when more than double that accumulated. Average snowfall for December in the city is 4.8 inches, while Dec. 14 is the average date of Central Park's first measurable snowfall.
Historically, the snowiest December day in Central Park is Dec. 26, 1947 (26.1 inches).
Stay with Storm Team 4 and News 4 New York for the latest and track the precipitation using our interactive radar below.