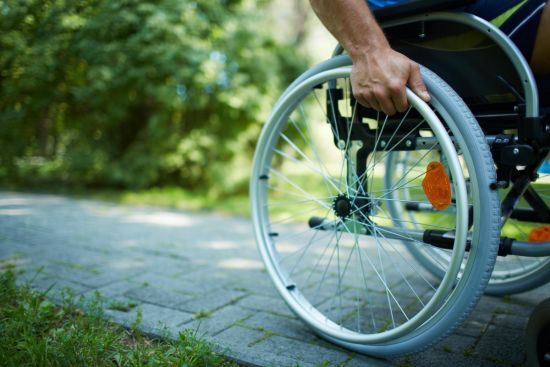 Defenders who have lost limbs are being prepared for prosthetics in the Lviv Region.
After the hospital, where the soldiers enter from the front line, they are taken to the rehabilitation center. Two months of difficult training and fighters put on prostheses, it says TSN.
Yuri, a 47-year-old military man, has an unusual story. He does not believe that he survived and that soon he will throw away his crutches and be able to stand on a prosthesis. He almost died from the explosion, was captured, but waited for his release. "We had two cars, we were driving two Urals, we were ambushed, and it so happened that the two of us ran over the embankment, the shelling began and we climbed into the building through the window. He ran into a stretcher in the building," he says.
His leg was half torn off. For a day and a half, the man lay in an abandoned building bleeding, when the occupiers came upon him. "At first they wanted to shoot immediately. I am from Donbas, and they consider me a traitor. The leg was amputated on the 5th day, because the treatment is useless – gangrene has started," says the man.
It is still difficult to remember the time spent in captivity. "I have said many times that it is easier to lose a limb than to lose freedom. We had a case, a guy died on June 7, we stood up, said – heroes don't die, got on our knees, then we had such pressure for about a week," Yuriy recalls.
Orcs beat the healthy physically, the wounded – mentally. They turned on Kobzon's songs and the Russian national anthem and made them listen from morning until evening. The most difficult, Yuriy recalls, were the lack of news from Ukraine and the unknown. But he waited for the exchange of prisoners. Ahead – complex rehabilitation and prosthetics.
But 19-year-old Valentin is already learning to walk. "At first, they prepared the leg for the prosthesis, practiced, there were different exercises, physical load on the leg to shape it for the prosthesis," he says.
He was wounded in the battles near Kyiv. "I turned 18 on October 13, I already served on October 30," says Valentin.
Serhiy is also learning to walk again. In the war, he lost his right leg, on which he once made a big tattoo. "I had such a beautiful skull from my knee to my heel, my grandmother was so superstitious, she said, your leg was torn off because there was a skull there," Serhii laughs.
Serhii is a contract worker, served in Kramatorsk, was wounded when he met an enemy tank. Currently testing prostheses. "There is a company that gives second-hand prostheses so that a person can learn and get used to it, and then, when the contract is signed with the prostheses by the company, they do exactly what you want," the fighter says.
It is not so difficult to make a prosthesis as to prepare a limb for it, doctors say. In order to exercise with an artificial leg or arm, a person needs to prepare the muscles and restore the forgotten movements. "Social rehabilitation, psychological rehabilitation, medical rehabilitation. They are prosthetics in us. We have made a closed cycle, we are accepting patients from the hospital, we are starting to rehabilitate," the center says.
"I have a lot of experience in overcoming certain things, traumatic, crisis, stressful, unfortunately. It was wrong not to use it," says psychologist and war veteran Serhii Titarenko.
Some return home with new prostheses. But there are also those who, like Serhiy, remain to work here after rehabilitation. They undergo training and help other fighters survive the loss of a limb.
Read also:
Nikopol district in Dnipropetrovsk region under fire: details of night and morning shelling
The US Congress insists on granting Russia the status of a state sponsor of terrorism as soon as possible and is putting pressure on Biden
Military tensions in the world: the threat to Taiwan due to China's training and the shaky truce in the Middle East